MONTHLY NEWSLETTER – JULY 2023
A summary of key events and market trends during the month of July
Global Markets Updates
The German Dax Index is now trading at all-time highs. The three broad US equity indices, the S&P 500, Dow Jones Industrials and the Nasdaq 100 are within a 3 to 5 % range of scaling the previous high levels.
The Nikkei and the Topix are some ways off given the elevated levels of the early 1990s. Having said that they are trading at the highest levels in thirty years.
Despite, and possibly as a result of, the universal bearish consensus from the start of this year risk markets appear to be well bid. Our bullish equity stance over these months has been well rewarded.
After the latest US Federal Reserve rate hike last week markets now expect a long pause followed by the first full cut expected in May 2024.
We have faded the rate bulls and bears for all this year and we now believe the market has veered around to our long held view that the Fed will more likely move in gradual and incremental steps rather than making big bold moves.
With inflation trending lower and economic growth holding up well there is not much incentive nor reason to make large tweaks either with messaging or with interest rate levels.
Earnings season is progressing satisfactorily and we will provide an update next month as most of the companies would have reported for the quarter.
The Volatility Index (VIX) continues to indicate that the market doesn't expect to hedge downside outcomes. With volatility levels as low as they are we are considering the purchase of long term hedges for portfolios
---
 Broad global equity indices are at or in striking distance of their all-time highs
With the latest set of central bank meetings (US Fed, ECB and BoJ) out of the way market participants continue to bid up equity prices.
---
Key Markets
 
With inflation moderating and growth continuing to come through at a strong clip central bankers have their jobs cut out for them – hold the ship steady and let market forces continue to play out as we collectively navigate relatively high levels of interest rates.
Despite the overall growth there are likely sectors and individual firms that would be facing a difficult growth scenario with restrictive policy settings. We believe rates are unlikely to come off in a hurry and along the way central bank balance sheets are being unwound at a steady pace.
Chinese authorities and regulators continue to feel their way through to normalized policy settings and are appearing to make progress. We continue to believe in the value available in good quality assets and are happy to hold our positions there.
.
---
SGMC Forward Views …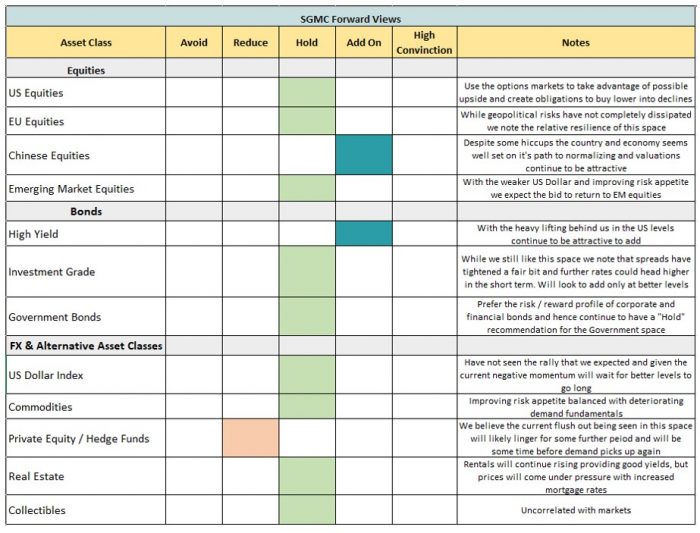 We are currently not making any changes to our forward views and asset allocation. Though, this could change as we assess the tone and content that comes through from the monetary policy meetings over the coming weeks.