Monthly Newsletter – July 2021
A summary of key events and market trends during the month of July
US equity indices continued their strong showing
The Nasdaq added close to 3 % while the S&P 500 added some 2.3 %
American equities strong monthly performance diverged from relatively muted European (+0.09% for the DAX) and deeply negative Chinese equity returns (-12.79% for the Hang Seng) for July, the latter hit by concern over regulatory actions
While Amazon's earnings numbers and guidance have disappointed other mega-cap technology names have done better
Earnings season continues and the month of August will see the bulk of other companies' report
The Volatility Index (VIX) has moved higher to around 18; however, has now spent its fifth month closing below the key level of 20
---
Tapen or not tapen?
The Jackson Hole Economic Symposium towards the end of August may provide some clues
---
Key Markets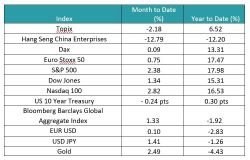 ---
Recap of the month …
All eyes will be focused on the Jackson Hole Economic Symposium which will be held towards the end of August (26 – 28th) and provides Central Bankers from around the world a platform to publicly discuss high priority issues. Of particular importance is what the Fed Chair speaks about. And this year there is some expectation that Jerome Powell will provide more detailed direction with regards any potential balance sheet reduction.
At its July meeting the Federal Reserve has provided plans for a Standing Repo Facility (SRF) which has both, a domestic as well as an international component. The net result of this facility is that most US commercial banks, and Central Banks of key trading partners, will have easy access to USD funding if, and when, needed.
This repo facility provides a powerful backstop to USD liquidity in times of crisis or market stress (read: the March 2020 financial market reaction to the spreading pandemic, the Global Recession of circa 2008) and as it is always available (i.e. "Standing") almost ensures USD liquidity when needed. While the details of the facility are still being digested, the initial read indicates the development is bullish risk-assets and bearish USD.
In China, regulators appear to be guiding companies towards delivering to the country's economic, social and national security objectives. This is a laudable goal. However, the ensuing headline risk has unsettled global investors and led to a higher equity risk premium being applied to Chinese equity assets. The Hang Seng China Enterprises Index lost north of 10 % for the month of July, with some companies taking a substantially larger hit. We believe this creates good value for long term investors and are happy to hold and add to our existing exposures.
The pandemic is now at a stage where vaccinations are relatively available; however, getting the remainder of the unvaccinated to take the jab is proving to be a challenge in some countries. Most vaccines have proven highly reliable in defending against sickness and avoiding the need for hospitalization in the event of contracting the virus. A more effective move towards maximum vaccinations could see a speedier return to normal.
The currency markets have seen a lull in activity; the usual summer impact. However, with the upcoming Economic Symposium and the advent of the return from vacations we would expect activity to increase.
The VIX continues trading mostly below 20; the near-term direction on risk appetite will come through from positive news on increased vaccination rates and corporate results. Central Bankers have been able to skew dovish over the last few months and how they navigate their guidance on balance sheet reduction here on will be closely watched.